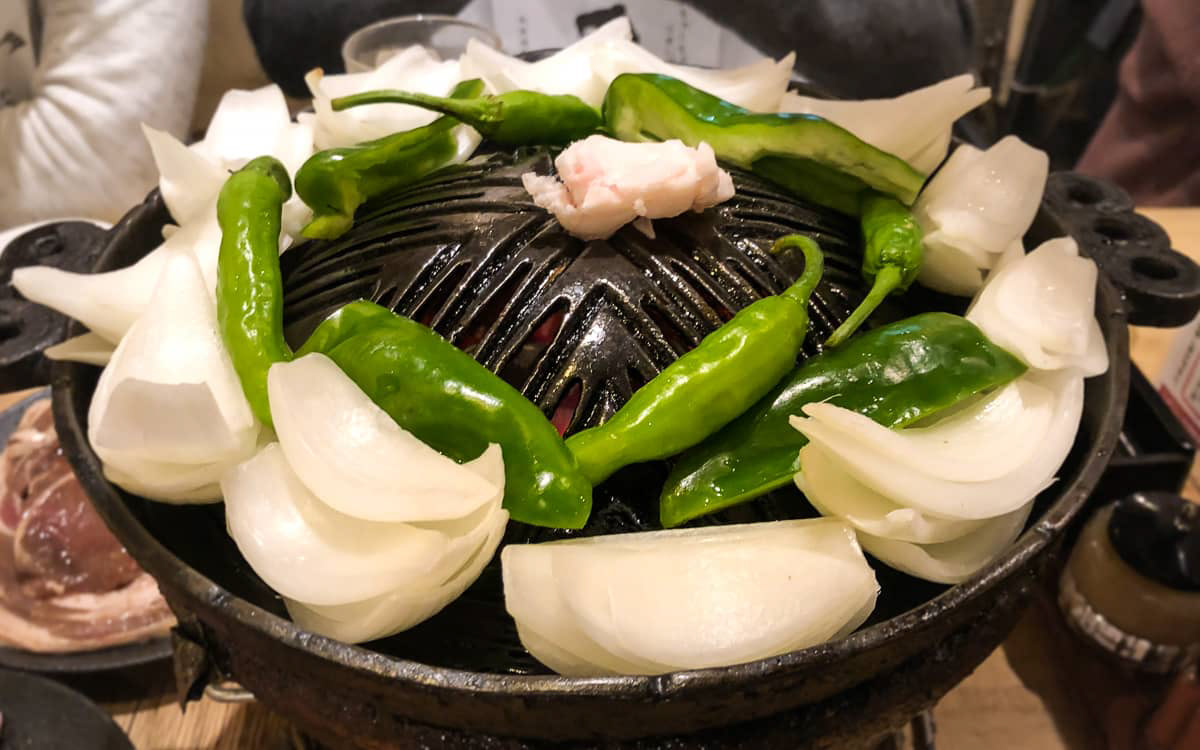 Jingisukan, barbecued lamb and mutton dish from Hokkaido. While barbequed lamb meat mostly has a very distinct (less pleasant) smell to it, the people from Hokkaido (dosanko) found a way to prepare the cuts in a way that removes most of the scent, while maintaining its unique flavor and texture. Luckily you won't need to travel all the way to Hokkaido to experience this delicious meal (although it would be a great excuse for it). As this little shop in Nakano has the complete experience covered for you, minus the cold.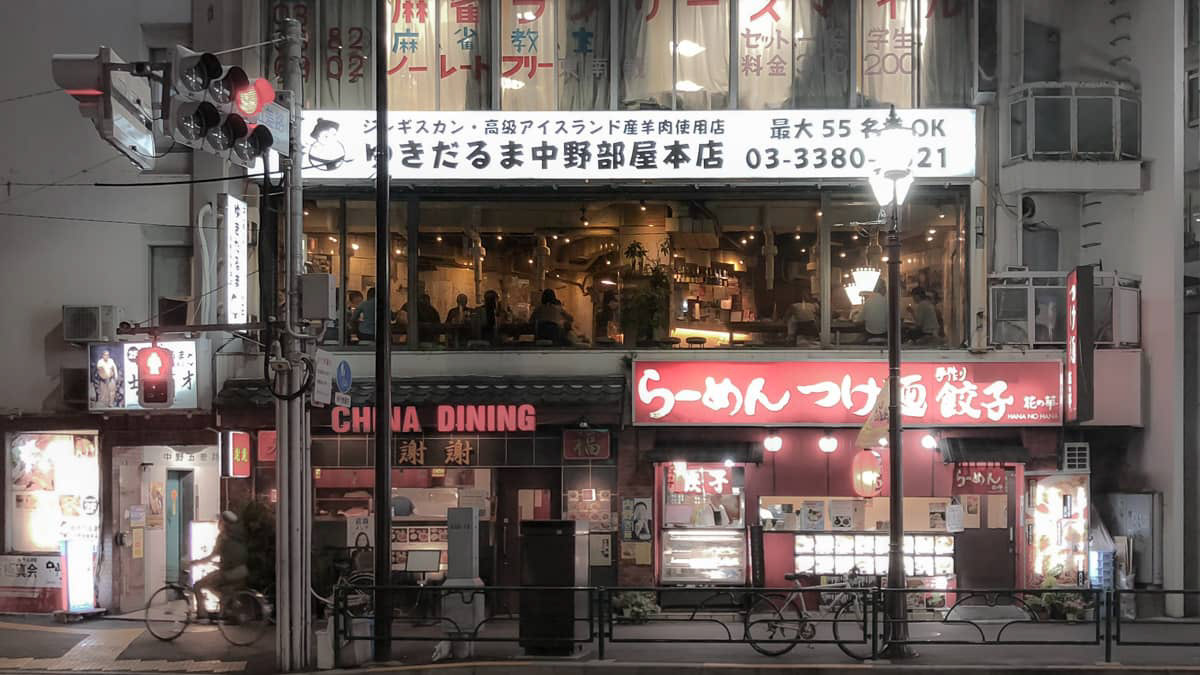 The current owner of this jingisukan (ジンギスカン, "Genghis Khan") restaurant is a former sumo wrestler that visited the restaurant numerous times during his wrestling career.  He actually owns two jingisukan restaurants in Nakano now, with this particular one being the original and most popular one. Located just 2 minutes away from Nakano station. However, being on the second floor it is easy to miss, so keep your eyes open.

Once on the second floor, a rather surprisingly pleasant barbecue smell welcomes you inside. Each seating area is equipped with an underperforming ventilation pipe directly above the table, resulting in an overall smoky atmosphere. Plastic bags are provided to cover your coats and bags. The lamb meat itself is grilled on a curved plate on top of coal (be sure to ask for new coals when the first batch is burning out). It is rumored that this convexly shaped metal grill resembles a soldier's helmet and finds its origin in prewar Japan where Mongolian soldiers used their helmets to cook their food. This shape carries the advantage that, the ideal spot to grill your slices of meat is at the center, being the highest and hottest point off the grill, whereafter the lamb fat will drip down into the lower part to flavor the vegetables at the lower edge.
You can opt for an all-you-can-eat course for around 3.000-4000 yen, or 4000-5.000 yen if you include all-you-can-drink to the party. We went for the 'traditional' all la carte option as that provides a wider variety of meat choice. This option comes with a mandatory starter's set of around 960 yen per person that includes a mix of vegetables (union and shishito pepper)  and different cuts of the lamb.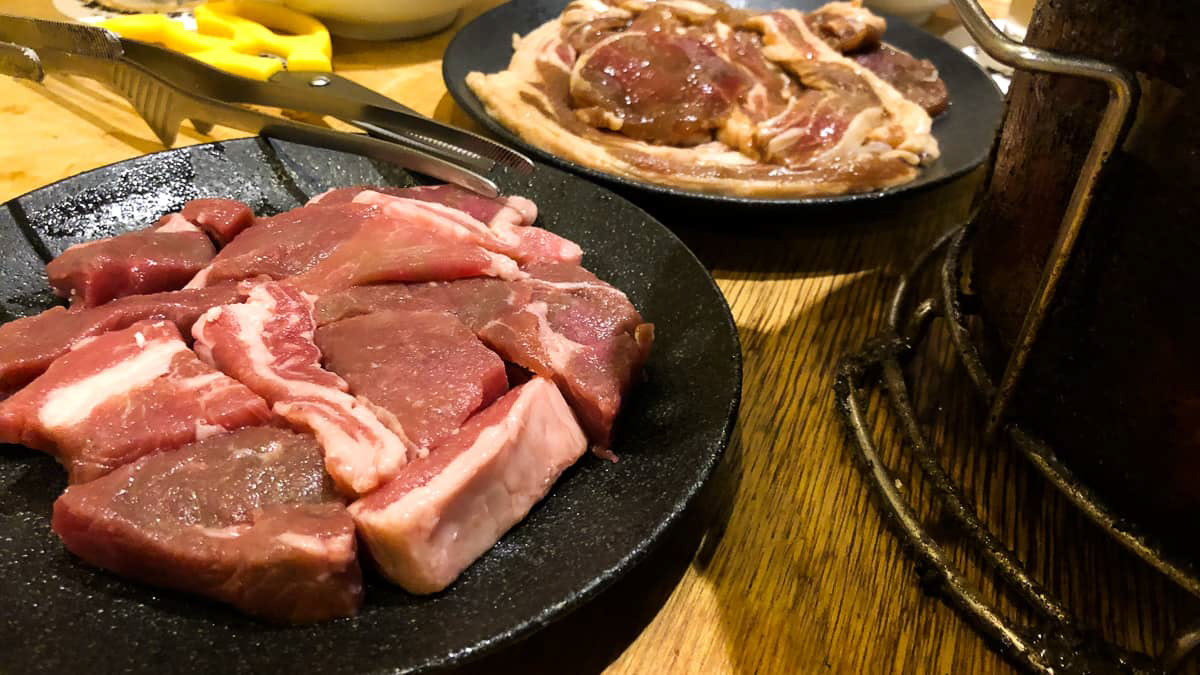 If your stomach asks for more after this, which is likely the case, you can order additional meat for around 800 yen per set and/or a vegetable set for about 500 yen. Beer and rice are also on the menu of course. In the end, we spent around the same amount of yen as the all-you-can-eat course with the added benefit of having more choice.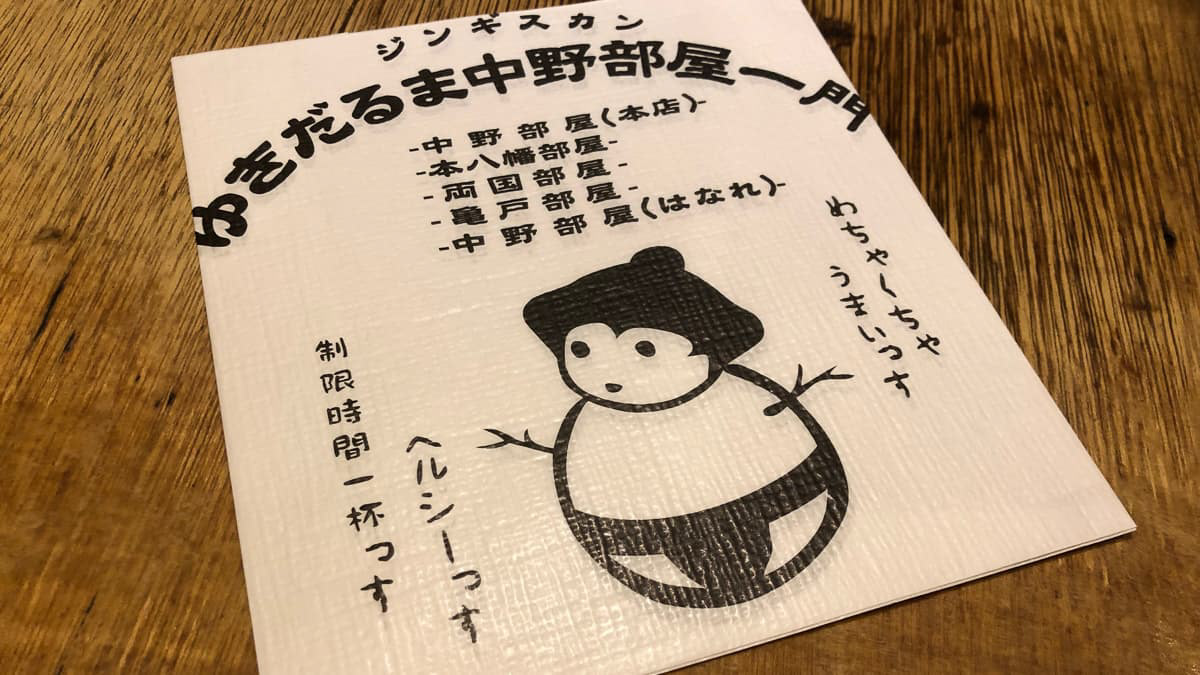 When visiting during weekends be prepared for a small waiting line outside. We arrived around 19:00 on a Saturday without any reservations but were lucky enough to get a shared table after a 10minute wait.

name               
Yukidaruma (ゆきだるま中野部屋)
open
​​​​​​​                 from 17:00 to 24:00
seats                
55 seats
budget            
¥4.000 - ¥5.000 average per person
access
​​​​​​​             2-minute walk from Nakano Station (south exit)
address
​​​​​​​           3-33-20 Nakano, Nakano, Tokyo    〒164-0001