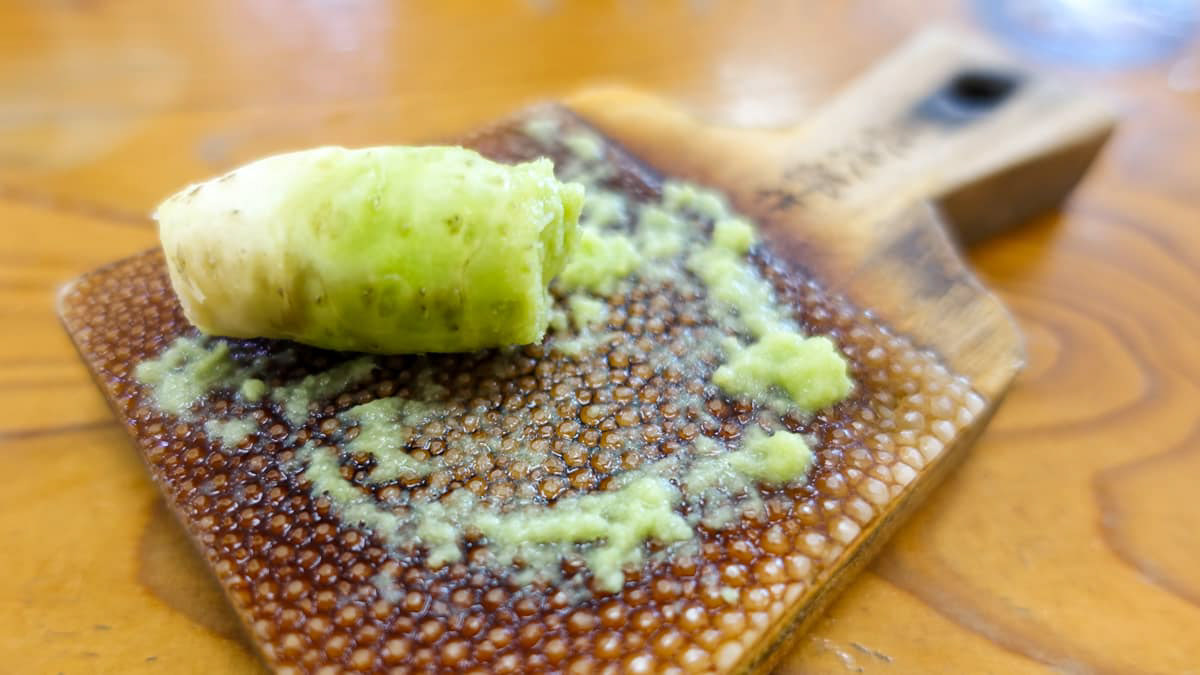 Kawazu Town, famous for its seven waterfalls as beautifully portrayed in the novel; 'Izu's dancer' back in 1926, has another compelling reason that makes the long trip worthwhile. And that reason has everything to do with wasabi. A green horseradish that is an essential supplement for sushi and sashimi for most is enjoyable for all in its purest form near this local farm that cultivates wasabi since the 1700s.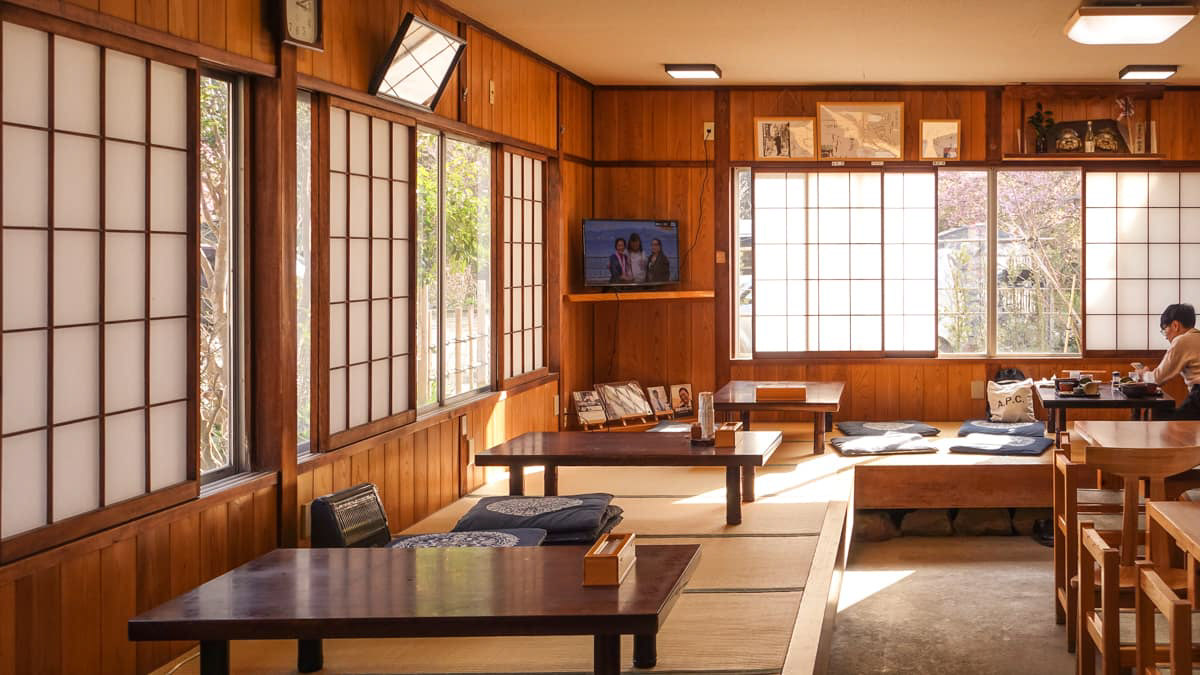 Wasabi-en Kadoya, literally meaning wasabi garden 'Kadoya,' has opened a restaurant near its terraced fields. It is using the directly available clear spring water from nearby Mount Amagi. The wasabi growing in this area is famous for its pleasant flavors. This wasabi pales all the readily available wasabi-like pastes and even the plethora of wasabi stalks you'll find at markets throughout japan due to its unbeatable freshness. 
The most popular dish at Kadoya would be nama-wasabi-don (raw-wasabi-rice bowl). A bowl of hot steamed rice topped with shaved bonito that awaits your effort to complete it with fresh wasabi and a little bit of soy sauce. This straightforward meal allows you to experience the pure joy of wasabi as the bonito and rice complement the wasabi greatly.
A common mistake is to mix the wasabi with soy sauce. As the owner explained, it is better to pour the soy sauce around the wasabi rather than over it. This way, the spiciness and fragrance distinct to fresh wasabi will stay longer. Another tip: don't over-enthusiastically grind down all the wasabi at once, as the flavors of the mustard-like spiciness together with the sweet fragrance mostly come from the grating process itself and will fade over time.

The tool provided for grating the green stalk is a wooden board with sharkskin on top. Yes, you read that correctly: sharkskin. This naturally rough texture appears to be ideal for grating your wasabi. Break off the leftover stems as that will be the side you'll be grating first. Try to grind the stalk in a circular motion and as finely as possible for maximum flavors, and enjoy!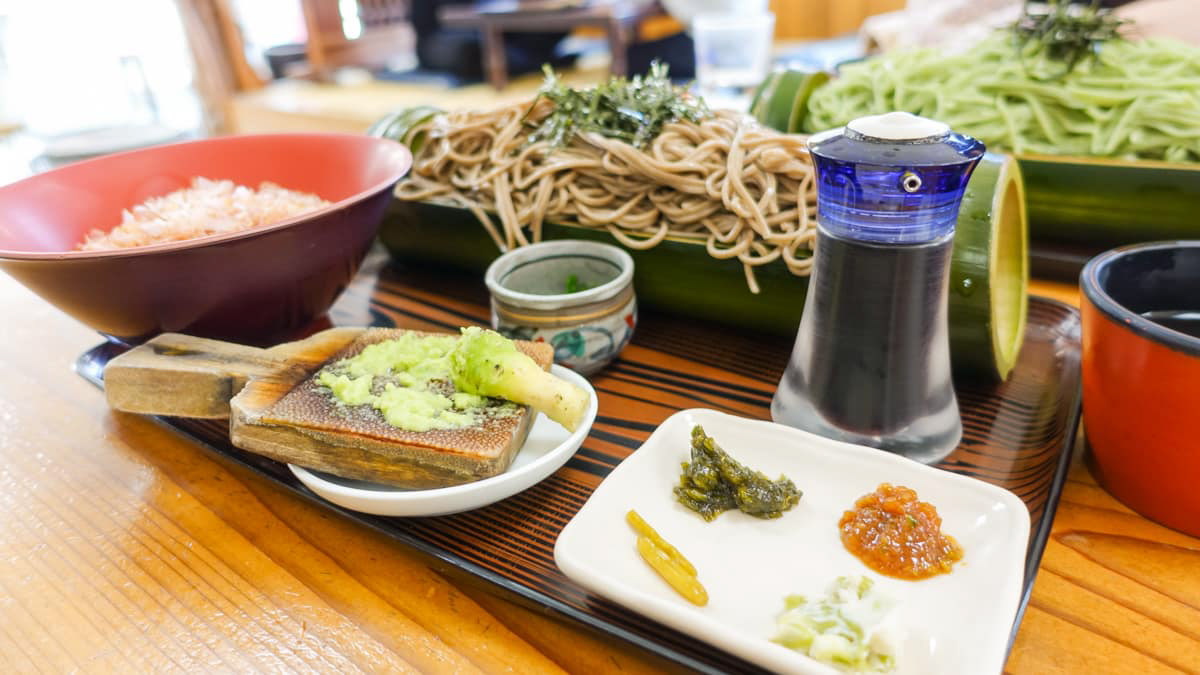 Our personal favorite would be nama-wasabi-tsuki-wasabi-soba (raw wasabi with wasabi flavored soba), that comes with fresh wasabi as well. All in all, you can't go wrong with any of the dishes they serve, as long as it comes with their 'signature' wasabi stalk.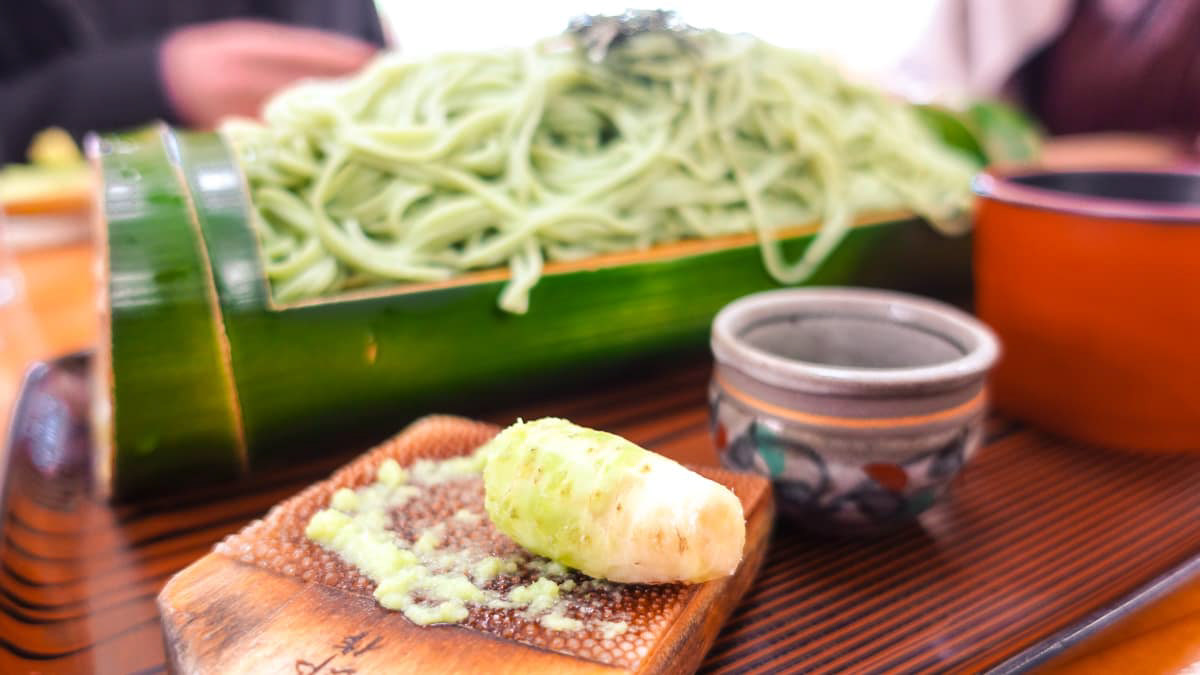 Be sure to check out their little shop in the front as well. Here you can find souvenirs like wasabi-miso and iwanori-wasabi (seaweed paste mixed with chopped wasabi), and of course, a range of fresh wasabi stalks. These stalks will be wrapped in newspaper and sealed with plastic so that they will last you for about one month in the refrigerator. If time allows, you could even try making wasabi-zuke (wasabi pickles) yourself.
Reservation
 beforehand is required and comes with an additional cost of 1500 yen. 
name               
Wasabi-en Kadoya (わさび園 かどや )
open
​​​​​​​                from 09:30 to 14:00 (closes when sold out)
closed
             Wednesdays
seats              
40 table seats
budget            
¥900 average per person
access
​​​​​​​             25-minute bus ride from Kawazu Station (exit 1)
address
​​​​​​​           371-1 Nashimoto, Kawazu, Kamo District, Shizuoka      〒413-0501